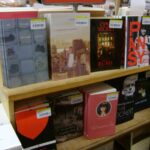 Belpid Books are proud to release "As though through glass", the second poetry collection by Amy Madden.
It follows "Scars" from 2015 and is published in collaboration with No Shirt Press in the US.
This review captures really well what the book is all about Ludovicah's Blog.
If you're in New York, you can get it at the Strand (Broadway/12th street), watch the photo where it's nicely displayed
in very good company. It can be ordered from the Strand website as well. Corner Book store on 1313 Madison Ave also has it.
You can also get if from Fancy, which has a great phone app, and allows the option of Apple pay or credit card.
Signed copies can be requested as well.
It's available at Amazon and on Kindle, if that's the way you like it. Otherwise, just get down to the Strand before it sells out.
If you're in Stockholm you can find it at Hedengrens at Stureplan.
ALSO HAPPENING: Stellan Wahlström Drift Band is playing live at Southside Cavern in Stockholm Wednesday April 26th at 21:30.
Hornsgatan 104, free to get in.