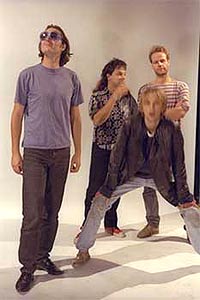 It's fast. It's nasty. But with an undisguisible talent for good songwriting. The discography contains the single "Today" and the full lenght cd "Revolution".
Jochum Forsell had a carreer in the 80's with the band Cry 400 (T&A Records), playing clubs in Stockholm and other major cities in northern Europe. During the 90's this gifted songwriter moved forward and put together a new band, closer to his own ideas – which means guitars.
In fact there's more guitars than choir boys on this one. Actually, there's more guitars than chords on this one. If you liked punk. If you liked grunge. If you can survive some good songwriting. Then this is the one for you.