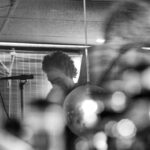 Belpid-kväll på Southside Cavern (Hornsgatan 104, Stockholm, T-bana Zinkensdamm) onsdag den 2 maj. Fri entré! Finns bra bar och restaurang. Dörrarna öppnar kl 20.
STELLAN WAHLSTRÖM DRIFT BAND (21.30) Första spelningen sen förra året och det kommer att bjudas på flera nyskrivna låtar live för första gången.
De har också grävt bland de äldre låtarna och hittat några gamla bortglömda non-hits.
Dessutom ny trummis – Johan Svahn. Tillsammans med Johan Werner (piano). Mats Grönmark (gitarr) och Johan Adelman (bas).
MATS KEMPE (21.00) Författaren (och före detta HighSpeedV-gitarristen) Mats Kempe läser ur sin kommande roman "Havet" som bland annat handlar om
brittiska folkrocksångerskan Sandy Denny.
CLOWNSKRÄCK (20.30) Avskalad lo-fi pop på svenska. Ett nytt sidoprojekt av Bo Schager från Un Rodo Cora. Med sig har han URC-kollegan Danielle Dahlström och Ulf Berlin från Pud Alone and the Congregation. Gästinhopp kan förekomma.
Foto: Ken Andersson
MEANWHILE IN NEW YORK: Latvian Radio will play the legendary Bitter End (147 Bleecker street) on Saturday April 28th at 8 pm sharp.