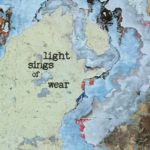 Belpid Books are proud to present the great new poetry collection by Amy Madden: "Light sings of wear".
"Light sings of wear", Amy's third poetry collection in four years, introduces a denser more mature voice
while still maintaining that characteristic intimacy with the audience. Her inherent musicality, the deft interchange
of pronouns and palpable city aura are hypnotic. As both the reader and the "read" one finds these poems not just
penetrating but addiciting. Prepare to find yourself steeped in a literary landscape that has been described as ""deeply familiar".
In New York the book can be found at the Corner Bookstore (Madison Avenue at 93rd St) and at The Strand (828 Broadway),
and also through their mail order:
Strand Books
Signed copies can be ordered from Fancy:
Fancy
And if you like to read it in digital form, you can find it here:
Kindle
In Stockholm you can find it at Hedengrens bookstore at Stureplan or borrow it from the Kulturhuset library.
If you're in New York November 24th, you can go see Amy play at Tom Clark's Treehouse (25 Ave A, 8:30) AND get a copy of the book!