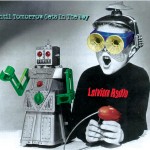 The new Latvian Radio album "Until tomorrow gets in the way" is now ready and released. It blends straight up power pop, UK post punk, new wave and lush ballads, and has already gotten a great review in US magazine The Big Takeover.
Latvian Radio mastermind Patric Westöö has again left his base in New York to record with Kim Monday, Mark Poole and the rest of the band
in Morgantown, WV.
Their 2014 release "For love & spite" ended up on 5 different best album of the year lists, including a top 10 finish in Absolute Powerpop.
The new album has already entered the CMJ Top 200 and is doing really well on US College Radio, especially in Texas and the New York area, and great reviews are pouring in:
"A mix of powerpop's punch, 60s pop's panache, and new wave's nerve."
– Jack Rabid, the Big Takeover
"If you are into early REM or the Replacements, give these guys a shot."
– Alan Cross, A Journal Of Musical Things
"Latvian Radio continues to be criminally overlooked and deserves to be heard. Highly recommended."
– Powerpopaholic
"From The Top Of A Building, song the day, Feb 26."
– Late Risers Club, WMBR 88.1 FM Cambridge, MA

The new album can be found at any decent music outlet you prefer.
Spotify
iTunes
Kool Kat Musik
CD Baby
Latvian Radio will be playing live at 123 Pleasant St in Morgantown, WV Friday May 6th together with The Phantom Six and Hello June.
Get over there and check out the new songs!